Surprise Proposal on Otter Cliff
Otter Cliff, home to no Otters unfortunately, made for yet another beautiful surprise proposal at Acadia National Park in Maine!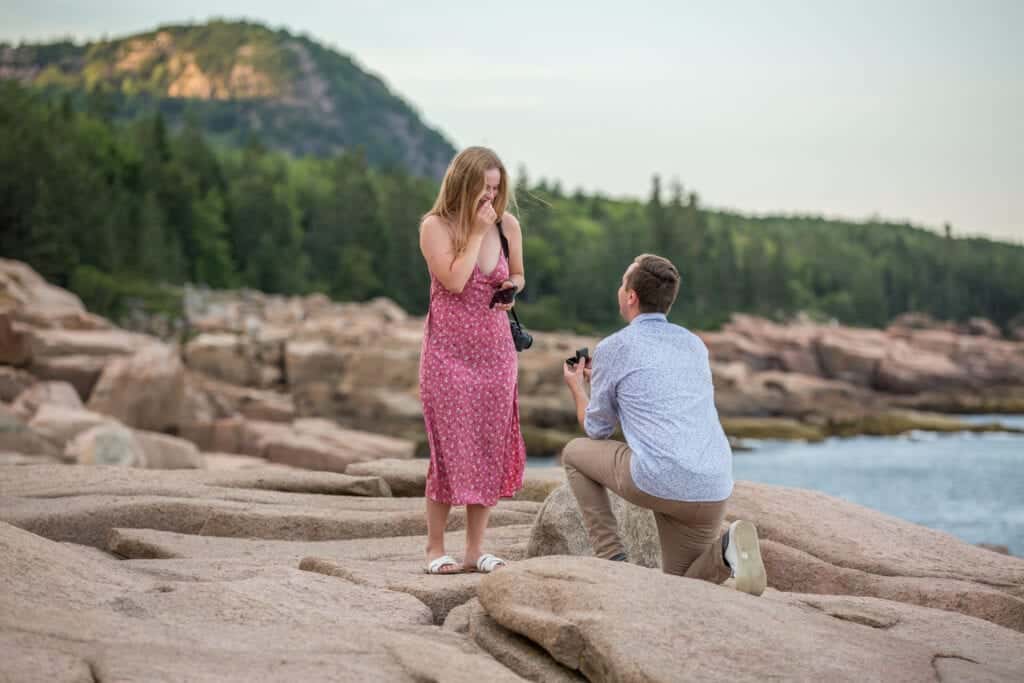 The Proposal
Brendan reached out to me about his vacation to Bar Harbor, Maine with his girlfriend, Jamie. After many conversations on how to keep this proposal a secret and how to get Jamie in the right spot at the right time, Brendan decided on the location of the beautiful Otter Cliff. Otter Cliff has some of the most spectacular sights on the North Atlantic Seaboard. However, you can never go wrong with any location you choose to propose in Acadia National Park… especially this time of year!
When the moment finally arrived, Jamie was absolutely stunned when she saw Brendan on one knee. Her facial expression was priceless! The love between these two was undeniably strong, which made this moment even more special. I am so honored to have photographed this beautiful couple! I loved that the element of surprise allowed Jamie to carry her camera with her, as she loves to take photographs. This added a more personal and real component to a moment that Jamie and Brendan will never forget.
Acadia National Park is arguably home to some of the most breathtaking views in Maine. What made these photos even more marvelous was Jamie's vibrant pink dress. The way it popped with the green and blue earth tones of Otter Cliff could not have made for better photographs! I mean, just look at her! The wind was also my best friend throughout this session, as it swept Jamie's hair in the most beautiful way. Something I like to call action hair!
I could not have asked for a better couple and location to photograph. I am so thrilled to be a part of yet another successful surprise proposal. Anytime I have the chance to take pictures in Acadia, I jump at the opportunity. I wish Jamie and Brendan nothing but love in their future endeavors and I am so happy I was able to be a part of this special moment!