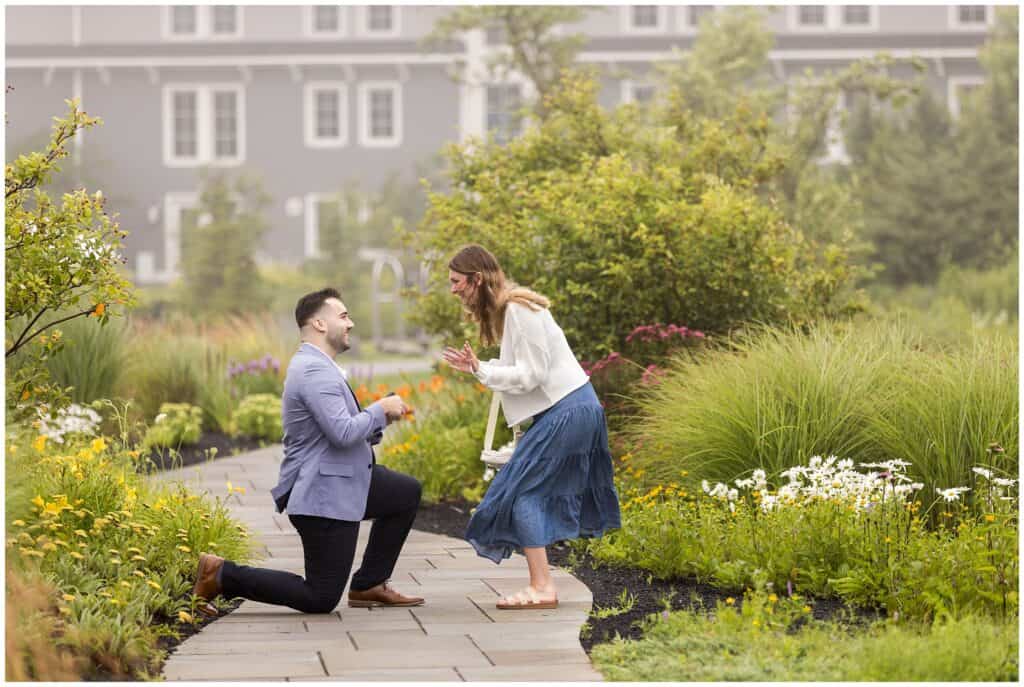 Love stories have a funny way of making even the most unpredictable situations turn into cherished memories. That's exactly what happened during AJ and Margaret's unforgettable Cliff House proposal in Cape Neddick, Maine. Originally, the plan was for AJ to propose at Nubble Lighthouse. But as fate would have it, Mother Nature had her own plans that day. Horrible downpours and a tornado warning at Nubble Light threatened to dampen the mood.
Thankfully, fate had other plans, and a stroke of luck came our way. I recommended shifting our location to the Cliff House, a stunning venue that offered shelter should the rain continue. It seemed like I might have brought some good luck with me, as the rain miraculously stopped just ten minutes before AJ and Margaret arrived. It was as if the universe conspired to grant us a rain-free window for their unforgettable proposal. The weather gods had smiled upon us.
In a year where many photographers had to reschedule sessions and weddings were relocated indoors due to relentless rain, I found myself strangely untouched by the weather… not one of the sessions I had scheduled had to be rearranged. There has been a little drizzle, or fog, but not rain, as it seems to clear up just in time for me to do my job! Perhaps it's a touch of good karma or just a streak of fortunate timing, but one thing is for sure—AJ and Margaret's Cliff House proposal was a testament to the power of love and a little bit of weather-related serendipity. I had so much fun photographing AJ and Margaret! I wish them nothing but love in this new chapter of life!