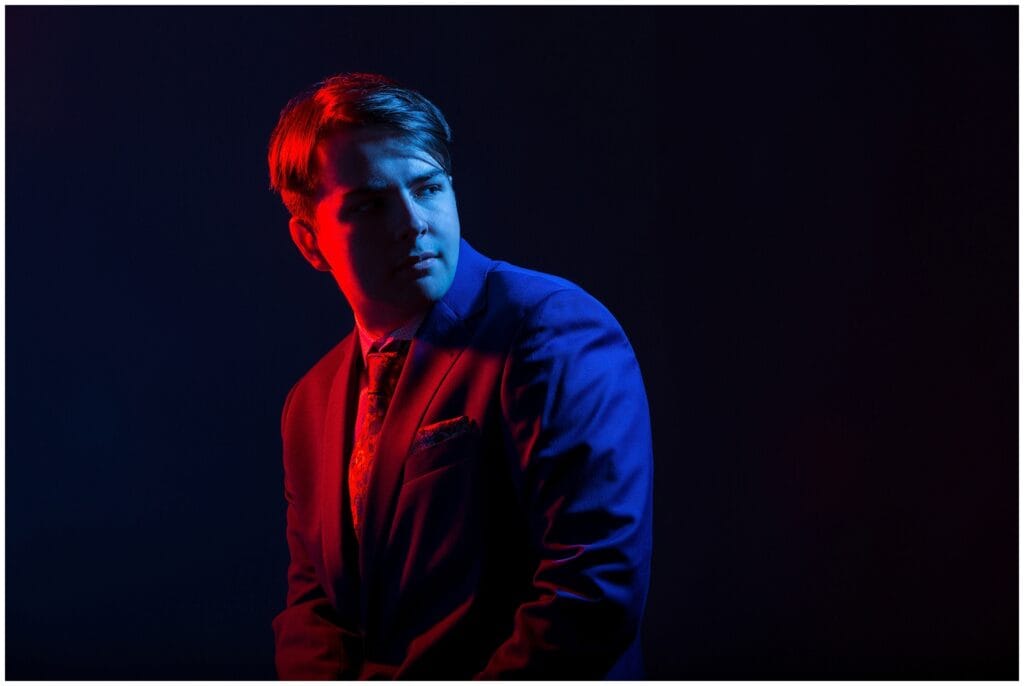 I always have a blast photographing senior sessions and getting to know talented people like Owen! Owen has a passion for cinematography. When he approached me to be his high school senior photographer, he mentioned that he chose me because of my expertise in lighting and the ability to make him look like a real-life James Bond or a character straight out of a movie scene. And let me tell you, it was an absolute delight to work with him and bring his vision to life! With Owen's flair for style and his job at Mens Warehouse, he brought his A-game by getting himself a brand new suit just for the shoot.
Our senior session kicked off in and around my studio. We began by exploring various lighting setups, and I must say, Owen is a natural in front of the camera! The combination of dramatic lighting and carefully chosen colors allowed us to create some truly captivating shots that would make anyone feel like they were part of an epic movie scene.
But the adventure didn't stop there! After capturing some fantastic shots in the studio, we decided to hit the streets of downtown Augusta to find more exciting backdrops. The architecture of the city provided a perfect canvas for us to work with. Armed with my trusty speedlites, we added an extra dash of drama to the images, making Owen look like he belonged in the heart of a thrilling cinematic masterpiece.
One of the highlights of the session was experimenting with double and triple exposures. We both love trying out new and unconventional ideas, and Owen was absolutely thrilled with the concept. By layering multiple images, we achieved a stunning effect that elevated his senior photos to a whole new level of uniqueness and artistry.
I had so much fun photographing Owen's Senior Session! I'm thrilled that we were able to create photos that reflect his personality and dreams. Owen, as you step into the next chapter of your life, I have no doubt that you'll shine bright like the movie star you are!