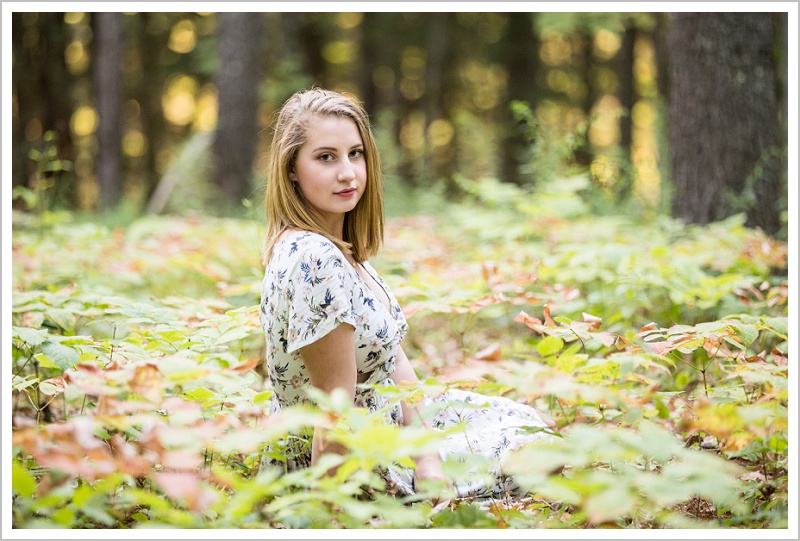 An outdoorsy senior in a little-known spot in the woods of Maine makes for some incredible images. It was a pleasure working with Analise from Gardiner Area High School. She expressed that she wanted photos in the woods. From the light to her expressions you can tell Analise was at home in nature.
While going through location ideas we pondered the woods and the beach but there was a spot that I knew would be perfect. I am so grateful that Analise was all for it and drove over an hour to get there. She has a knack for adventure. Trudging through the brush and down a hill to a little brook. Totally willing to take her shoes off and jump in the water, we got some amazing shots. The light was just beautiful!!!
For a girl who loves rafting, hiking, and anything outdoors, her outfit choices really showed off her femininity. Floral prints that complimented the landscape and her beauty. The white dress and the sun shining through the trees is to die for! She rocked it and her confidence is incredible. I love when seniors are adventurous during their shoots. Analise was ready for adventure from the beginning, as you can see going knee deep in the babbling brook we found. Having so much fun on this shoot, we ended up missing a turn while we were heading back to the cars and ended up a quarter mile away!! That didn't phase her one bit!!
Good luck to Miss Analise in her Senior year at Gardiner Area High School!!! I know you'll kick some serious butt when you get out into the real world!!!