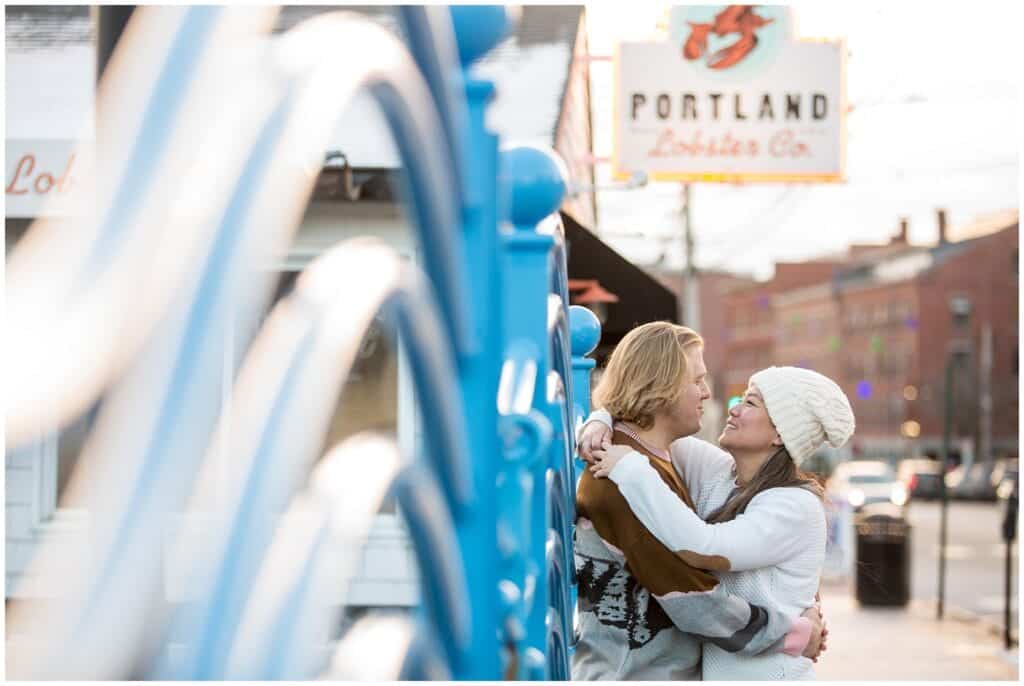 Ami and Andrew live in Massachusetts, but decided on an engagement session in Portland, Maine. I couldn't have asked for a better couple to work with. They were so in love and genuinely happy to be spending the day together. We explored some of the city's most beautiful locations, including the Eastern Promenade and the historic Old Port. Despite the chilly weather, Ami and Andrew were all smiles and their love for each other shone through in every photo.
Winter Maine Engagement
I love it when couples aren't opposed to winter engagement sessions. The winter in Maine can bring beautiful backdrops that you don't get other times of the year, and the tourist crowds are gone, leaving some of the more popular places almost all to ourselves! Ami and Andrew were the perfect example of a couple willing to brave the cold for unique photos. The light snow on the ground and the crisp air made for some truly stunning shots. We even got lucky with the end of a beautiful sunset over the water to close the session.
Emerald Beauty
One of the most unique things about Ami and Andrew's engagement session was Ami's beautiful ring. The stunning diamond was flanked on either side by delicate emeralds, making for a truly eye-catching piece of jewelry. As a photographer, I love when couples incorporate unique elements like this into their sessions. It adds an extra layer of personality to the photos and tells more of the couple's story. Ami's ring was not only a beautiful accessory but a symbol of the love that she and Andrew share.
I had so much fun photographing Ami and Andrew's engagement session in Portland! I look forward to photographing their wedding at Granite Ridge in the mountains of Norway, Maine!