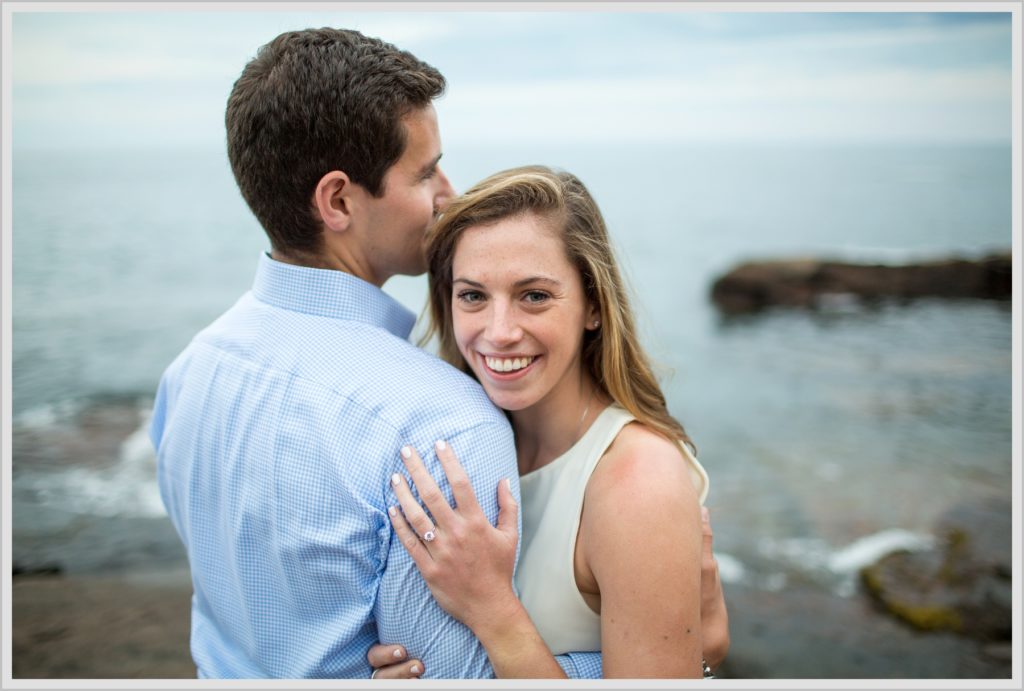 Matthew and Julia are from New York, but ventured to Maine for a mini vacation together in Acadia National Park. Julia suspected that a proposal may be on the way and bought an adorable white dress with a pastel floral print on it, hoping she would be wearing it when he proposed.
Matthew contacted me a month or so before this special trip to Bar Harbor, Maine to ask if I would photograph the proposal. They had never been to Acadia National Park before, and he wanted some recommendations for a good location that wouldn't be too full of tourists. I told him about Park Loop and gave him some links to look at. Ultimately, he chose Otter Cliff, and planned to propose on the rocks along the Ocean Path. 
Matthew and I set our plan, and I made sure to arrive well in advance to scope out the best location for 'the big kneel"! He kept in contact with me as much as possible during the evening, letting me know what she would be wearing so I could tell whether her shoes would be an issue on the rocks, and also keeping me updated on their ETA.
He had brought her to a lovely dinner in town that night, and according to Julia, she thought for sure this would be the night he proposed, so she wore her little white floral dress! Dinner came and passed, and no ring was presented to her. Matthew suggested they take a drive around the park and find a nice place to watch the sunset. Julia agreed, now a little frustrated that she had worn her dress on the wrong night, or that maybe, perhaps, there would be no vacation proposal at all!
As they parked and walked out onto the rocks, Matthew pointed out Otter Cliff, and he put his arm around her as they watched the waves for a moment. Then, he knelt, so perfectly, as we had planned for photos, and asked her to marry him.
The look of shock on her face (and possibly a bit of relief that her dress hadn't been worn in vain!) was priceless. She said yes and hugged and kissed him and then started laughing in disbelief that he had pulled this off, and even kept me, the photographer, such a surprise!
After meeting in college and a long distance relationship these two are ready for the long haul. Julia writes: 
After 18 months of long distance, I finally moved to NYC, where Matthew was, and we shared a month of a short distance relationship. Matthew was planning on moving to Chicago in mid July, just after our trip to Boston and Maine. While in Maine, Matthew popped the question on July 10, 2018 on Otter Cliffs in Acadia National Park at sunset. I said "YES"!! We are so excited to get to spend the rest of forever together!
We spent the next 45 minutes climbing on the rocks, sitting by the waves, and capturing on camera such a special evening for them both. The sunset and we parted ways, and I'm thrilled that Julia now follows my work on Instagram and I follow her as well, getting to see all the fun she is having planning her big day! What a sweet, attentive, and caring couple. Even though I am not their Wedding Photographer, I know it will be amazing, and I wish them all the best!