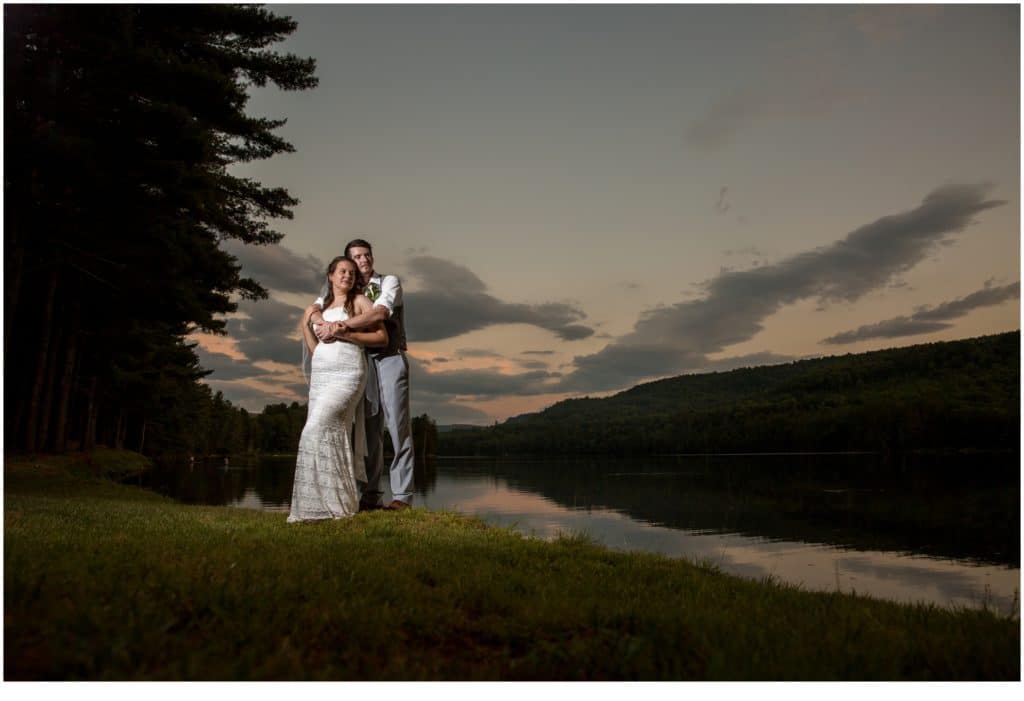 Nicole is an airline pilot, and Austin loves music.  Put the two together, and you get an eclectic, laid-back mountain wedding at Maine Lakeside Cabins in Caratunk, Maine!  I was so excited to be their photographer and utilize this beautiful venue for some creative photos.
A Pilot's Wedding
Nicole's details were so fun, incorporating little tiny paper airplanes folded out of maps, a garter that had the words "Remove Before Flight" embroidered on it, and her favorite necklace with an airplane pendant (which she never takes off)! Adding pieces of who you are and what you love to your wedding day is such a cool personal touch!
A Musician's Wedding
Austin's details included a seating chart that named each table after one of his favorite albums, from Pink Floyd, to Heart, to a Perfect Circle. He also created a "guest book" out of a drum head, labeled with their last name, that everyone could sign before it would hang on their wall at home.
Taking Time for Creative Photos
Nicole and Austin decided against a first look and instead made sure there was enough time after the ceremony to get some really creative photos around the property.  The ceremony was shorter and had the perfect glow of light on the edge of the water, and afterward, we were able to photograph the family, the wedding party, and then the newlyweds alone.  I'm so thankful they were willing to be adventurous enough to row out on the water in a canoe for a cool photo!
The reception was fun, complete with a confetti surprise handmade by Nicole's grandmother. As they danced their first dance, her family members gathered around and each grabbed a ribbon attached to a lace bell that hung overhead, and when the ribbons were pulled, Austin and Nicole were showered with flower petals. What a sweet surprise and fun photograph to take.
Nicole's father also added a personal touch to the reception by presenting them with a custom carved knife to cut their cake. He explained to them how the knife was made, the meaning behind it, and that he wanted it to stay in their home and be used every day, as opposed to being stored away as a wedding remembrance.
At sunset, we were able to get a few amazing photographs by the water before the couple finished off their celebration with a sparkler exit, just after sundown.  I was also lucky enough to catch them before leaving for the evening and asked them to entertain an idea I had, to utilize the volleyball court on the property.  They happily agreed, and an amazingly fun photograph you see below was created!  I love it!!!!
All the best to Nicole and Austin. I loved this eclectic mountain wedding!!!
Venue: Maine Lakeside cabins
Dress: Davids bridal
Cake: DIY family member
Bridesmaid Dresses: Davids Bridal
Men: Men's Warehouse
Florals: Maine Lakeside cabins
Hair and Makeup: I Do Spas
Officiant: Shannon Welch, a family friend
Signs and décor: DIY