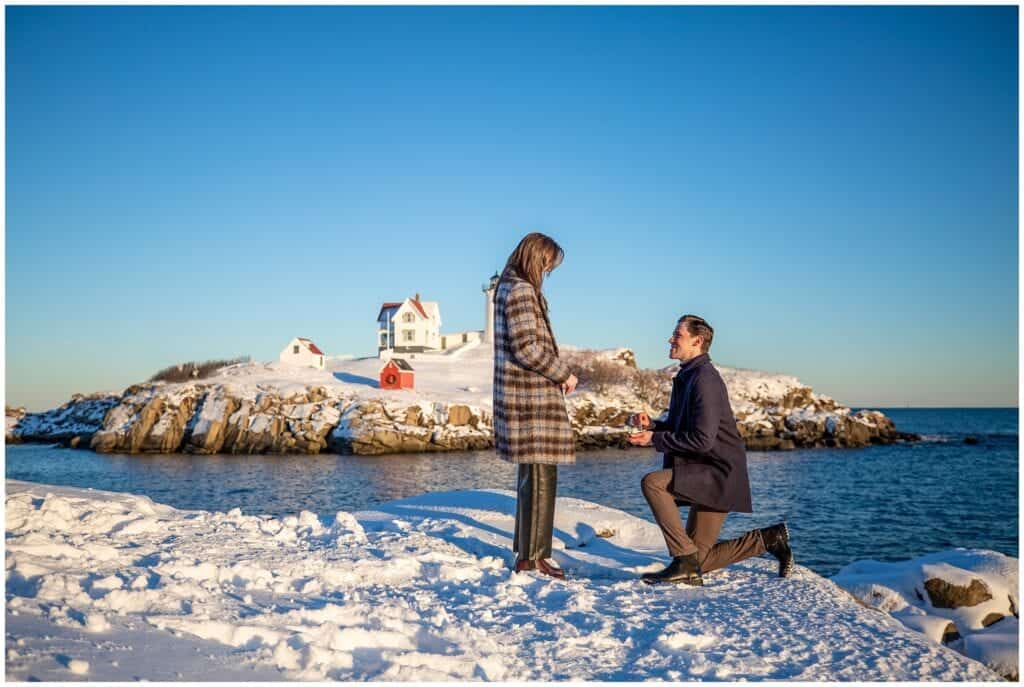 This will be a day Tyler and Irena will never forget! What started out as Maine winter couples photoshoot, ended in the surprise of a lifetime for Irena!
Nubble Light
Tyler and Irena were visiting from out of state on a classic Maine winter vacation. Tyler wanted to surprise Irena with a proposal in front of the beautiful Nubble Lighthouse in York, Maine. I LOVE winter sessions in Maine. Many out of staters think Maine can only be a "Vacationland" during the summer… but the Winter season is just as amazing in my opinion!
A Twist
Unlike most surprise engagement sessions, I was able to introduce myself to Irena before the session started. Tyler told her he hired me as a photographer as part of the package he received from the place they were staying during this vacation. To go along with the story, I pretended I worked for this place and was hired to do a "couples photo session" to document their stay in Maine. Little did Irena know, Tyler and I had been planning this surprise engagement for a while!
The Surprise
Right on cue, Tyler got down on one knee and asked Irena to marry him. Of course she said yes! This was the perfect surprise engagement session, Irena had no idea! I'm so happy I was able to be part of this special moment. We finished our photo session during sunset on top of Mount Agamenticus, which is also located in York, Maine.
What an adorable couple! I'm delighted I was able to help Tyler with his surprise engagement and wish them the best as they begin planning their wedding!