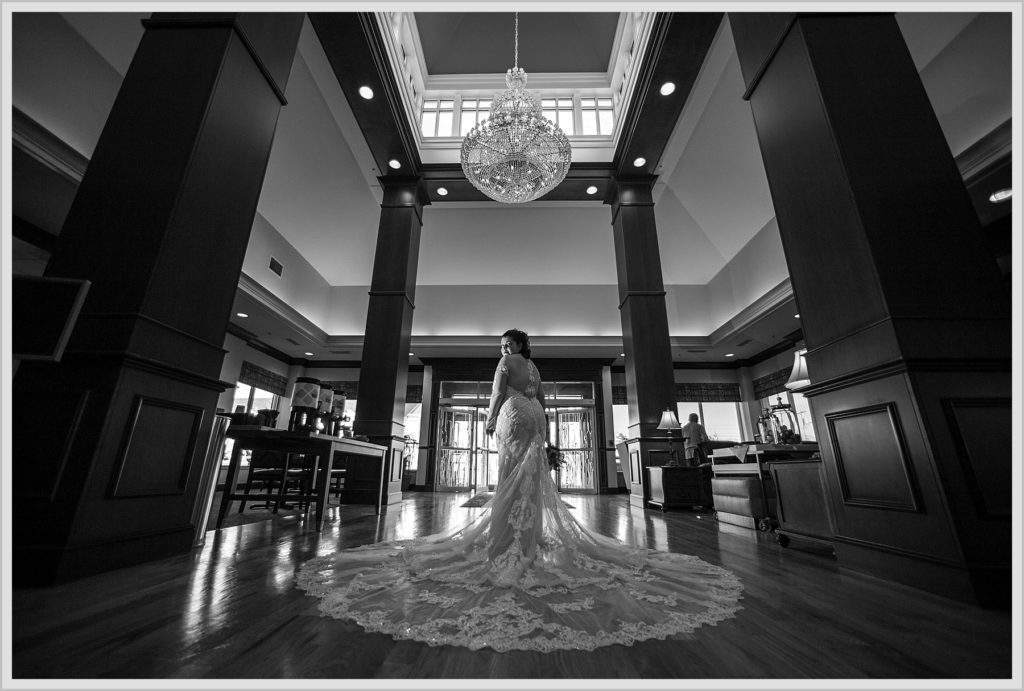 Photographing "an unusual couple with an interesting sense of humor," as the bride refers to themselves, on a typically unlucky day was definitely not what you might expect. A little non-traditional wedding theme of purple and black made this wedding even more special to the couple.
Jordan and Brian were married in Bangor at the Hilton Garden Inn, on April 13th. Which also happens to be Friday, the 13th. But this was no accident. She grew up in funeral homes since it's the family business, and attributes some of her dry and dark humor to that.
Their decorations were mostly black and purple, but Jordan's dress remained ornate and classic, with a beautiful long lace train. Brian's attire included purple accents and a black vest with a black paisley pattern to compliment Jordan's dress. The bridesmaids were dressed in a beautiful, rich purple with matching bouquets. Family members wore a boutonniere. Subtle details like that can really make a wedding come together.
The ceremony, although brief, was heartfelt and perfect for these two. We took the bridal party outside for some shots and had some fun. As you can see from the bride's sill faces and subsequent laughter right after. I quickly made friends (or was it enemies? Or frenemies???) with Jordan's grandmother, who I was told would refuse to smile for photos, and I had permission to tell her to stop being difficult and smile. I pride myself in getting people to loosen up, and found out just how to make grandma smile for photos.
A few portraits of the couple together and then we were off to the reception. Purple lanterns were scattered throughout the space along with beautiful purple flowers, transforming the ballroom into their space. Lovely speeches and a fun cake cutting lead the way to the dancing where everyone got on the dance floor
Later that evening grandma stopped me and pulled me aside, putting a hand on my back and saying "I can't decide if I love you or hate you" and she laughed out loud. I had officially bonded with this woman, and replied, "I feel the same!" When I left for the evening she gave me a big hug! What a fun day with this couple, and their friends and families!
A fun time was had on an "unlucky" day making it a perfect day for Brian and Jordan. I love how weddings really capture the personality of the couple. Making connections with family members and making sure everyone is enjoying themselves so that their images will be truly treasured is what I love.