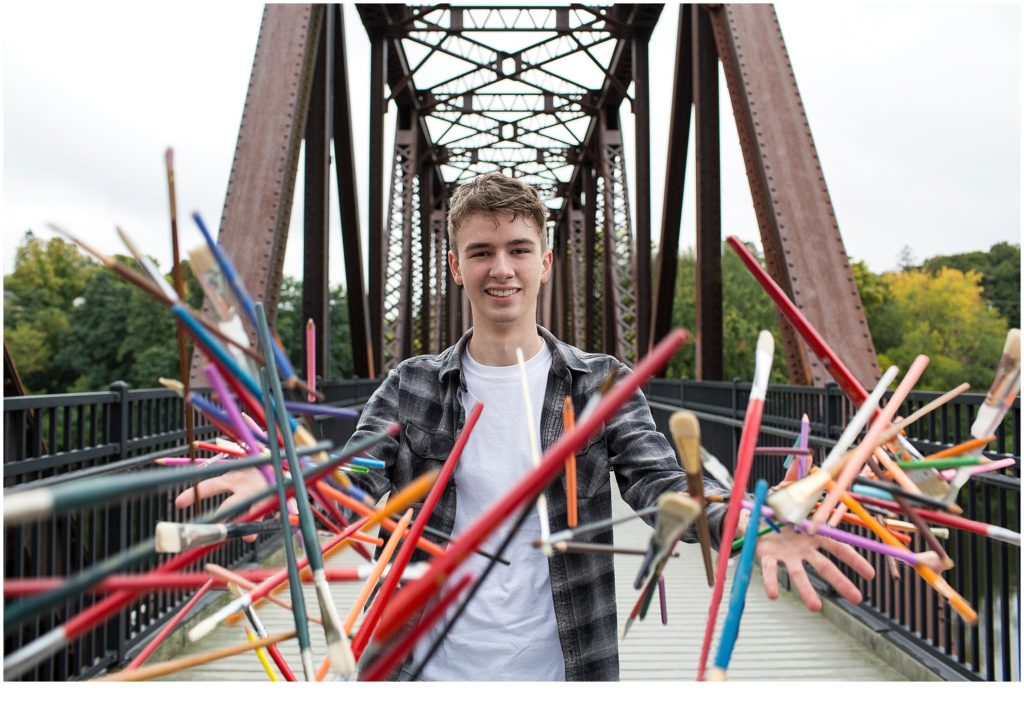 McKinley's mother contacted me because she felt as though I was the right person to bring out her son's personality.  McKinley (or Mick Mick, or Mickey, as his friends call him) is a senior at Telstar High School and enjoys Visual Communications, English, and Art… as you'll see in the photos below.
McKinley also loves the outdoors and hiking, and he brought along his hiking gear for a few photos, but his creative soul is what jumped out at me.  He brought along some of his art supplies so that we could create a couple really unique images, which is right up my alley as a photographer!  We laughed as he got to throw his paintbrushes and pencils at me to get the perfect shot, and then, at the very end of the session, we covered him in paint and showed just how creative and fun and laid back this senior can be.  I've never seen senior photos of anyone covered in paint before, so to be part of something that shows someone's true passion in such a creative and fun way was such an honor.
The red jacket you see in one of these images was his grandfathers, and the fact he wanted to honor him and wear it for a few shots is so respectable.  Adding something so sentimental to the shoot was wonderful.
Although he says he will very much miss seeing his friends and attending classes with them once he graduates, "Mickey" is excited to be looking at Husson College, the University of Maine in Farmington, and UNH where he'd like to study to become a veterinarian…. and I truly believe this is a great fit for him.  He has a kindness and calmness about him that would be perfect for that profession!
When I asked McKinley what he thought about working with me, he responded "Doing my senior photos was a lot less stressful than I though it was going to be. I've never actually had pictures taken of myself so I didn't know what to expect. Overall it was a really fun experience."
I pride myself on making everyone feel comfortable.  My take on senior photos is different than many photographers I know, and my goal isn't to produce a perfect portrait of a person with every hair in place.  My goal is to show the happy, the crazy, the creative, the sass, and the complete individuality of each and every person I photograph.  I'm so happy McKinley allowed me to do this for him!