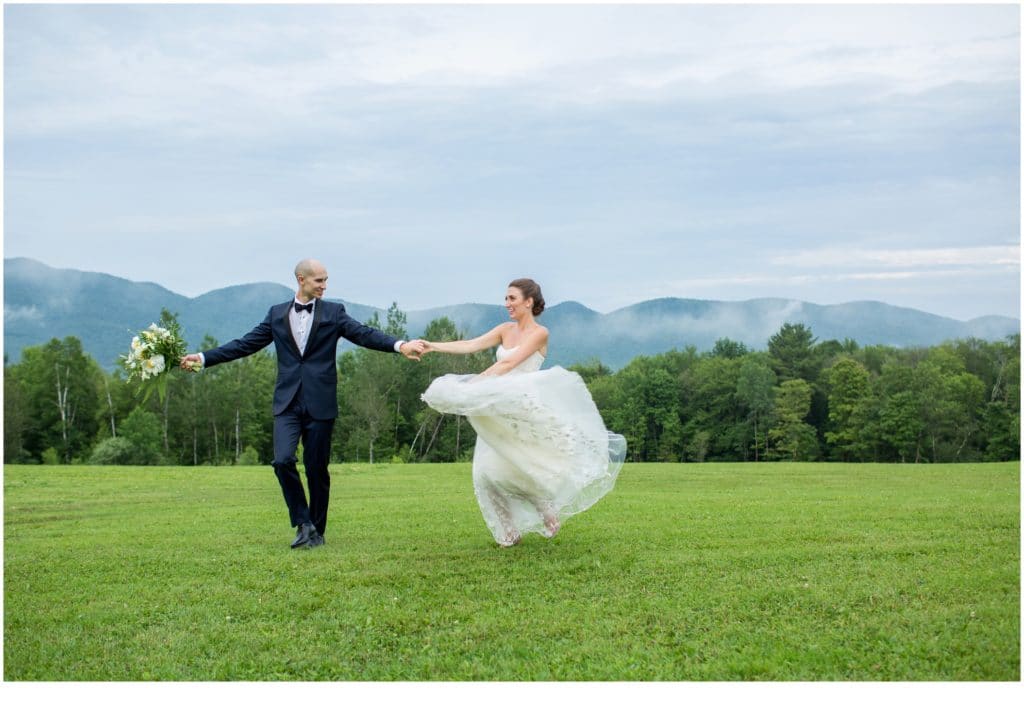 MOUNTAIN TOP INN AND RESORT, VERMONT
The Mountain Top Inn and Resort is an incredible venue, with some of the most breathtaking views of the mountains of Vermont.  And this is where Lilly and Winslow, a Boston couple, decided to have their wedding.  I'm so thankful they asked me to photograph it for them!
The guys and the ladies chose different locations on the property in which to get ready; beautiful cabins with amazing light and only minutes from the ceremony site and reception barn.  Lilly and Winslow prioritized their images to focus on their friends and family, and less on the details of their attire, rings, and such, and wanted to have as many candid photos as possible.  One thing I love is working with each couple to come up with an approach to their wedding that truly fits what they want photographed.  There is no cookie-cutter approach when it comes to the weddings I photograph.
YELLOW FOR A WEDDING?
This color is seldom used in weddings, but Lilly and Winslow chose it, and I was smitten from the beginning.  The guys wore floral mustard yellow ties, and even their doggie had a matching collar and leash!  The ladies wore a simple white top with yellow skirts.  So simple, so elegant, and something that can be worn on so many occasions after the wedding itself.  Lilly explained how each lady had the outfits custom-tailored to fit them, and the ladies looked and felt so comfortable in these dresses!  The yellow against the blue of the mens' suits was absolutely stunning.
A RAINY CEREMONY
What do you do when there is rain on your wedding day?  You improvise and put your backup plan into play.  Lilly made the tough decision to move the ceremony inside when there were sprinkles right before the ceremony.  The weather was a 50/50 chance of rain in the next 30 minutes, and although she and Winslow would probably have held the ceremony outside had it been just the two of them, she didn't want her guests to be caught in the rain unprepared.  The staff at the Inn prepare a space for the ceremony that wasn't quite a scenic mountain view that was originally planned but had an intimate feeling with draped fabric throughout the barn, and lush greenery hung from above.
It was so touching to see Winslow tear up as Lilly walked down the aisle, and then such a mood changer when she reached the arbor and leaned into him for a kiss, then suddenly realized that wasn't allowed until the ceremony was over, and burst out into laughter, causing the guests to break out laughing as well.
PHOTOS ON THE MOUNTAIN TOP
After the ceremony, while guests enjoyed the cocktail hour, Winslow and Lilly had photos taken with their family, wedding party, and then enjoyed some time for photos alone. They absolutely nailed it, dancing, playing, snuggling, twirling, and showing their true energetic selves for the camera. THIS is exactly what I love about photographing weddings. When a couple feels comfortable enough around me to take my directions and truly make it their own show, I am at my happiest.
A LIVE BAND AT THE RECEPTION IS ALWAYS A SMART CHOICE
In over a decade of photographing weddings, I have never seen a dance floor as energetic as when there is a live band playing, and this night, with Groovin' You out of Boston, was no exception. They had an amazing presence, engaged the guests, and kept the floor packed all night long. It doesn't hurt, too, that Winslow and Lilly also were out there the entire time, busting out some amazing dance moves!!! When a bride and groom stay on the dance floor together, I have noticed that more guests stay longer, and the party rages!
I am so enamored with Lilly and Winslow, and with this wedding!!!

Officiant: Nancy Crumbine
Rings: Engagement Ring by Laura Preshong
Wedding Bands: Tiffany
Hair & Makeup: Marielle Artistry & Blushing Brides
Florist: Meadow's Edge Floral Design
Ceremony & Cocktail Music: Dayve Huckett
Reception Music: Groovin' You
Dessert: Woodstock Farmers Market