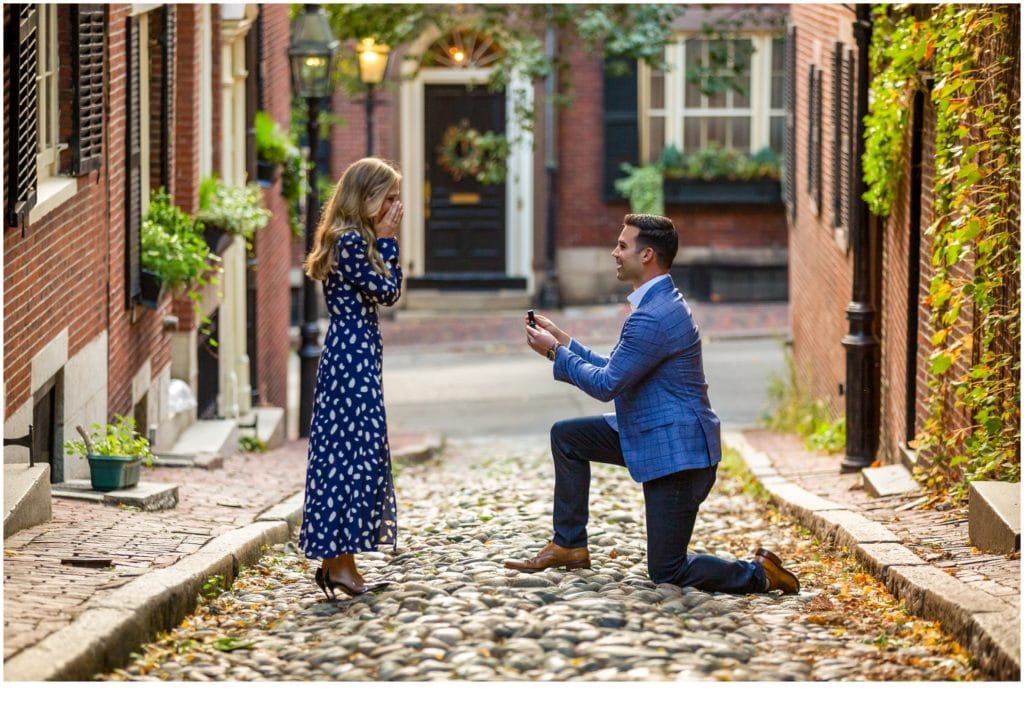 Matt and Sierra and the smiliest, cutest couple! He contacted me long before the day he popped the question, and had planned to come to Maine for this milestone in their lives. However, travel became difficult during the Covid travel restrictions for this Boston-based couple, so we changed plans a bit. Instead, I came to them to photograph their Acorn Street Proposal!
Matt loved the old charm and beauty of one of Boston's original cobblestone streets, Acorn Street, and wanted to propose there.  However, we also needed a backup plan.  Acorn street can sometimes be quite overrun with pedestrians, and we wanted to make sure this was a personal moment for them as possible.  
HAVING A PLAN
In the event Acorn Street was busy when I arrived early to check it out, we had planned for me to notify him, and instead, I would wait for them in Pier Park across from Faneuil Hall on the harbor. Luckily, Acorn Street was quite empty, so I texted Matt the green flag, and he let her know he wanted to check out Acorn Street before their dinner reservation near Pier Park.
When they were just a moment or two away, another photographer with a couple arrived for a few photos, and I let them know what was about to happen. They were so gracious as to step around the corner to finish their photo shoot so that Matt and Sierra could have that privacy. Just as the other photographer walked away, around the corner came Matt and Sierra!
I wandered up the hill and pretended to be taking photos of the street. This seems to be a regular spot for Boston photography, so it didn't phase them in the least to see me there.
THE BEST MOMENT
Matt led Sierra, in her bazillion-inch high heels, up the sidewalk, and carefully escorted her to the center of the cobblestones where he knelt to ask her to marry him. Her reaction was one of the sweetest I've seen. She put her hands to her face, truly shocked this moment was happening and started to cry and shake. I think there was a squeaky "yes" that came between her tears, because he slipped the ring on her finger and stood to give her a kiss.
After a moment, Matt introduced me, and I got to give them each a hug. Sierra showed me her ring, her hands shaking so badly from the excitement that she couldn't keep her hand still enough for me to get a look! Ha!!
PIER PARK, SEAPORT
After a few photos together on Acorn Street, we drove to Pier Park and finished the evening there with photos of the city in the background. Her beautiful dress moved so well as they walked together, and I loved capturing such a genuine laugh. Helping people feel comfortable being themselves when I'm only a couple feet from them (for some photos) is something I pride myself on. Authentic smiles are the most amazing and rewarding thing for me to capture.
When the session was done, I congratulated them both again and headed home to Maine. They were on time for their dinner plans, and I'm sure with that, on top of the proposal, made it one of the most magical nights for Sierra.
Thank you to both of them for being so fun and sweet, and I hope when they are ready to plan their wedding they reach out to me again. I had so much fun photographing their Acorn Street Proposal. Hugs!!!!-